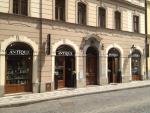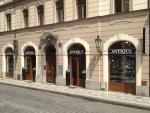 Antiques Maiselova, Ltd.
Address: Maiselova 1, Praha 1
Phone: + 420 222 327 845
Mobile phone: + 420 603 272 226
E-mail: starozitnosti.antique@email.cz
Opening hours: Mon-Sun: 10.30am -7pm
Member of Antique Dealers Association in the Czech Republic
Languages: EN, DE, RU, FR
g = antique galleries, s = antique shops, a = salesroom
Antique Maiselova, Ltd. is a company which has already been operating in the market for 20 years. It specializes in quality pottery, glass, paintings, silver and other antiquities. Purchase and consignment sale.
porcelain
mantel clock
paintings
sculptures
porcelain
mantel clock
bronze statues
Meissen
paintings
glass, silver
| | | | |
| --- | --- | --- | --- |
| | Au 585/000, BRIL 1,10ct | | Au 585/000, 5,50g, BRIL 0,75ct |
| | SMOKY 206,38 ct, BRIL 1,45ct | | Au 750/000, 12,50g , ONYX |
| | Au 585/000, 6,10g, BRIL 0,65ct, RUBY 0,50ct | | Au 750/000, 8,20g, BRIL 1,20ct, SAPPHIRE 1,60ct |
| | Au 585/000, BRIL 1,00ct, EMERALD 0,80ct | | Au 585/000, BRIL 0,40 ct |
| | Au 750/000, 8,30g, BRIL 4,00 ct | | Au 585/000, 2,60g, BRIL 1,50 ct |
| | Pt 900/000, Au 585/000, 22,60g, DIA 1,60ct | | Au 750/000, 58,30g, DIA 0,40ct |
| | Pt 950/000 19,70g, DIA 7,15ct | | Au 750/000, DIA 2,50ct, RUBY 0,02ct, PEARL |
| | Au 585/000, DIA 0,40ct, ENAMEL | | Au 585/000, DIA 0,40ct, SAPPHIRE 1,50ct |
| | Au 585/000, 9,60g, amanzonit | | Ag 800/000, chalzedol, karneol, markazit |
| | Necklace with natural amethyst - Au 585/000 12,55g, Bt 18,05g, AMETHYST... | | Broach with brilliants and ruby - Au 540/000 1,00, Au 140/000 24,00g, Bt... |