Gold and silver plated, cake scoop - Christofle - detail of advertisement
Antique: Gold and silver plated, cake scoop - Christofle
Gold-plated and silver-plated metal. Art Nouveau style. Scoop, kidney shaped, gilded on the front. Decorated with engraved floral ornament. Wavy edge on one side. Handle, extended at the bottom, with folded handle. Marked, brand name and Christofle name. France 1900 - 1920. Length 27 cm.
on Czech-antigues.com since: 27.1.2020 20:36:59
antiques by Category: metal - cutlery
width: 270 mm
date of manufacture: 1910
country of origin: Europe – France
period / style: Art Nouveau
author: Christofle
number of pieces: 1
materials: alpaca
details: hallmark
locality: Prague
seller - antique gallery: Antiques Pod Kinskou, Ltd.
price: 65,- €
Antikpraha.cz does not increase the price of goods by its commission and, as a result, some items here are cheaper by tens of percents than the same items on other websites.
Email seller about this item?
Similar antiques you may be interested in metal - cutlery

Gilded silver, enamel. Purity Ag 875 / 1000. Net weight 5.60 grams. Fork with...
43,- €
Art deco silver plated cutlery - Sandrik, Dolne Hamre Silver plated metal,...
148,- €
Two large silver serving spoons - Henri Chenailler, Paris Polished solid...
387,- €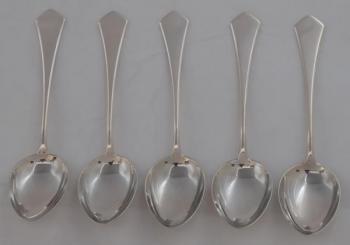 Polished silver. Fineness Ag 800 / 1000. Weight 280 grams. The spoon has an...
235,- €