Five smaller silver knives - Biedermeier - detail of advertisement
Antique: Five smaller silver knives - Biedermeier
Silver, steel. Marked by Austro-Hungarian hallmark for foreign goods valid since 1868. Silver handle of oval shape. Decorated with a relief motif of leaves with stems. In the style of the late Biedermeier. Knives with rounded toe, made of steel. One knife slightly damaged. Total weight 132.69 grams. Central Europe around 1870. Length 19.5 cm.
on Czech-antigues.com since: 6.1.2019 14:39:01
antiques by Category: metal - cutlery
width: 195 mm
date of manufacture: 1870
country of origin: Europe – Central Europe
period / style: Biedermeier
number of pieces: 5
materials: steel, silver
details: slightly damaged, Austro-Hungarian hallmark
locality: Prague
seller - antique gallery: Antiques Pod Kinskou, Ltd.
price: 52,- €
Antikpraha.cz does not increase the price of goods by its commission and, as a result, some items here are cheaper by tens of percents than the same items on other websites.
Email seller about this item?
Similar antiques you may be interested in metal - cutlery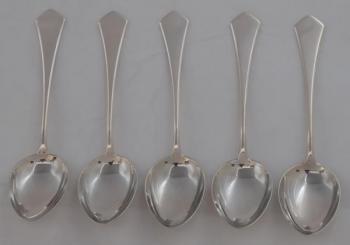 Polished silver. Fineness Ag 800 / 1000. Weight 280 grams. The spoon has an...
235,- €