Eight Light Chandelier - brass, patinated brass - 1990 - detail of advertisement
Antique: Eight Light Chandelier - brass, patinated brass - 1990
on Czech-antigues.com since: 4.10.2021 19:36:54
antiques by Category: lightings, fixtures - chandeliers, lamps
width: 950 mm
height: 1 190 mm
date of manufacture: 1990
country of origin: Europe – Belgium
period / style: 20th century
number of pieces: 1
materials: brass, patinated brass
details: in perfect condition, decorated, high quality work
locality: Hradec Kralove
seller - antique gallery: Castle Stracov
price: 558,- €
Antikpraha.cz does not increase the price of goods by its commission and, as a result, some items here are cheaper by tens of percents than the same items on other websites.
Email seller about this item?
Similar antiques you may be interested in lightings, fixtures - chandeliers, lamps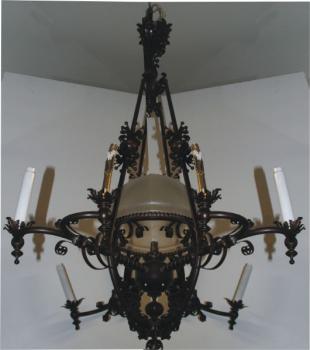 3 armed chandelier 7 light bulbs relief decoration
1 038,- €
model 11105, new wiring
138,- €
Charles Raphael Peyre, 1872-1949, Table lamp, bronze, ivory, onyx, marble,...
28 846,- €