Armchair K-106 - detail of advertisement
antique: Armchair K-106
Custom made 3 months, shop@modernista.cz
From 58 900 CZK
More than a decade ago we managed to buy up a pair of original K106 tubular chairs that we hadn't come across until then. Unfortunately we have not been able to identify the maker or the artist of this piece to date. The chairs were upholstered like the seats in 1930's automobiles in a series of rollers, which adds a proper elegance to the chair.
Seat height 43 cm
The basic upholstery design is made in a modern way with the use of so-called registers and rubber-coating. We custom upholster exactly as in the 1930s on a hardwood frame and hand-bound pens. The extra charge for classic upholstery made of compression springs is 8.000,-CZK. We can upholster on request in any material. Beechwood armrests are varnished, stained or also upholstered in the chosen material. Price of Armchair K 106: 57,000 CZK + 4 bm of covering material (leather consumption 6 m2)
Price of the footstool: 14 900 CZK + 1bm of covering material (leather consumption 2 m2)
on Czech-antigues.com since: 9.11.2023 01:10:02
antiques by Category: armchairs
width: 630 mm
height: 750 mm
depth: 950 mm
date of manufacture: 1930
country of origin: Europe – Czechoslovakia
period / style: the first half of the 20th century
number of pieces: 1
materials: wood, chrome, leather, steel
locality: Prague
seller - Licensed replicas and antiques: MODERNISTA
price: 2 561,- €
Antikpraha.cz does not increase the price of goods by its commission and, as a result, some items here are cheaper by tens of percents than the same items on other websites.
Email seller about this item?
Similar antiques you may be interested in armchairs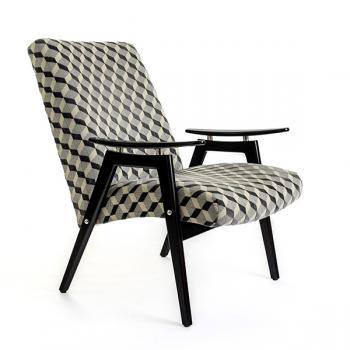 Czechoslovakia 1960s, Custom made 4 months, shop@modernista.cz From 30 900...
1 343,- €