Stoneware plate with flowers - Altrohlau, Nowotny - detail of advertisement
Antique: Stoneware plate with flowers - Altrohlau, Nowotny
Colored stoneware. Shallow round shape. The upper rim decorated with brown printed decoration of flowers with leaves, tendrils and ornament of a pointed arch. Marked from below: impressed numbers, brown mark. Nowotny, Altrohlau, Stara Role, Bohemia 1823 - 1884. Diameter 19 cm.
on Czech-antigues.com since: 26.6.2022 19:12:52
antiques by Category: ceramics
diameter: 190 mm
date of manufacture: 1850
country of origin: Europe - Bohemia
period / style: 19th century
author: August Nowotny, Stará Role
number of pieces: 1
materials: stoneware
details: marked on the lower side
locality: Prague
seller - antique gallery: Antiques Pod Kinskou, Ltd.
price: 33,- €
Antikpraha.cz does not increase the price of goods by its commission and, as a result, some items here are cheaper by tens of percents than the same items on other websites.
Email seller about this item?
Similar antiques you may be interested in ceramics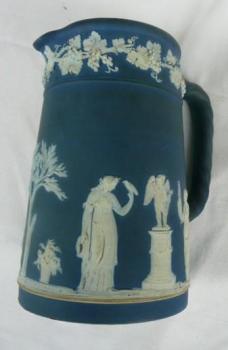 Dimensions: height 13.8 cm, base diameter 8.8 cm, top diameter 7.5 cm
discount83,- €
Ceramics with brown glaze, tin. In historicizing neo-renaissance style....
75,- €