Tall glass with engraving of a bodybuilder - detail of advertisement
Antique: Tall glass with engraving of a bodybuilder
Colourless glass, cut. Cylindrical shape with thick-walled bottom. On the front side engraved with the subject of a muscular man standing in a bodybuilder's pose. Czechoslovakia, second half of the last century. Height 20 cm.
on Czech-antigues.com since: 19.6.2022 15:42:20
antiques by Category: Glass - mugs, cups, goblets, tankards
height: 200 mm
date of manufacture: 1980
country of origin: Europe – Czechoslovakia
period / style: the second half of the 20th century
number of pieces: 1
materials: colorless glass, cut glass
locality: Prague
seller - antique gallery: Antiques Pod Kinskou, Ltd.
price: 25,- €
Antikpraha.cz does not increase the price of goods by its commission and, as a result, some items here are cheaper by tens of percents than the same items on other websites.
Email seller about this item?
Similar antiques you may be interested in Glass - mugs, cups, goblets, tankards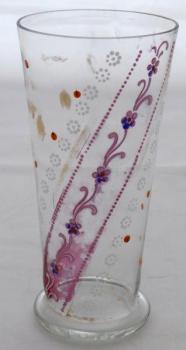 Clear glass, hand painted with coloured enamels. Cylindrical shape. A round,...
15,- €