Tin plate, figural - Girl and Boy, on the dike - detail of advertisement
Antique: Tin plate, figural - Girl and Boy, on the dike
Light, patinated tin. Round hanging shallow plate. In the middle, a central relief motif, a sitting boy and a girl in dresses, on a dike, with one foot in the water, in the background a landscape with a tree. Raised, arch-shaped flat edge - in Baroque style. Marked indistinctly from below. Europe, second half of the 19th century. Diameter 21.5 cm.
on Czech-antigues.com since: 19.1.2021 20:31:19
antiques by Category: vessels and jars of metal
diameter: 215 mm
date of manufacture: 1895
country of origin: Europe
period / style: the second half of the 19th century
number of pieces: 1
materials: tin
details: marked on the lower side
locality: Prague
seller - antique gallery: Antiques Pod Kinskou, Ltd.
price: 54,- €
Antikpraha.cz does not increase the price of goods by its commission and, as a result, some items here are cheaper by tens of percents than the same items on other websites.
Email seller about this item?
Similar antiques you may be interested in vessels and jars of metal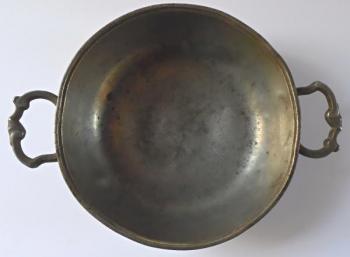 Tin. Round bowl, with arched raised edge. Upper edge profiled. Rococo shaped...
27,- €