Projections Lumineuses - detail of advertisement
Antique: Projections Lumineuses
on Czech-antigues.com since: 3.4.2021 02:10:01
antiques by Category: devices, equipment, electronics, tools
width: 480 mm
height: 350 mm
depth: 350 mm
date of manufacture: 1910
country of origin: Europe – France
period / style: the first half of the 20th century
number of pieces: 1
materials: metal, glass
details: interesting for collectors
"Projections Lumineuses, Maison de la Bonne Presse, Paris, Cinematographes"
locality: Prague
seller - antiqueshop: Antiques Jelínek
price: 346,- €
Antikpraha.cz does not increase the price of goods by its commission and, as a result, some items here are cheaper by tens of percents than the same items on other websites.
Email seller about this item?
Similar antiques you may be interested in devices, equipment, electronics, tools
A Brosset Freres portable goniometer. Signed "Goniometre portatif / Modele de...
385,- €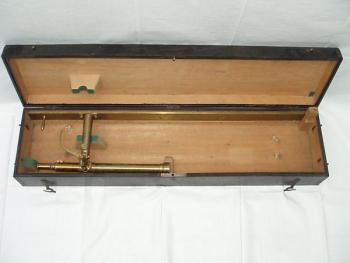 Signatura: E. Kraft & Sohn in Wien 1626
1 077,- €