Tea cup with green stripe - Rosenthal, Aida - detail of advertisement
Antique: Tea cup with green stripe - Rosenthal, Aida
Creamy white, green and gilded porcelain. Rosenthal Porcelain Factory. Classic shape. Decorated with gold lines with etched gilt ornament, green stripe. Inside the cup a colourful bunch of flowers. Marked from below in green Rosenthal, model name Aida, gold crest with name Pickard. Germany 1925. Height of cup 5 cm, diameter of saucer 14,5 cm.
on Czech-antigues.com since: 21.8.2023 15:14:18
antiques by Category: porcelain cups & saucers
height: 50 mm
diameter: 145 mm
date of manufacture: 1925
country of origin: Europe – Germany
period / style: Interwar Period
author: Rosenthal
number of pieces: 1
materials: porcelain
details: marked on the lower side
locality: Prague
seller - antique gallery: Antiques Pod Kinskou, Ltd.
price: 78,- €
Antikpraha.cz does not increase the price of goods by its commission and, as a result, some items here are cheaper by tens of percents than the same items on other websites.
Email seller about this item?
Similar antiques you may be interested in porcelain cups & saucers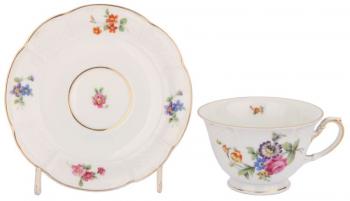 White, blue, painted porcelain. A cask-shaped cup. Decorated with a darker...
48,- €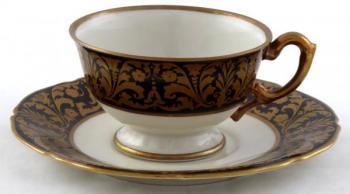 Mocca cup with golden scrolls - Langenthal, Switzerland White, black and...
52,- €
White, cobalt, coloured, hand painted and gilded porcelain. Cobalt blue cup...
96,- €