Jan Antonin Pacak (Jenyk) - Faces, Dear left, PF - detail of advertisement
Antique: Jan Antonin Pacak (Jenyk) - Faces, Dear left, PF
Three woodcuts on paper 24 x 15.2 cm, 25 x 17.5 cm, 16 x 11.5 cm. Signed in pencil lower center, dated 78 and 79. Lower left in pencil - trial print to Ales, dedication to Zdena, sheet number 61 / 75. Four portraits, Dear left, PF 1972 Jenyk Pacak with his family. Unframed. Jan Antonin Pacak ( Jenyk ) ( April 26, 1941, Prague - March 23, 2007 Mechenice ) study: Vocational School of Ceramics Stara Role ( Karlovy Vary ) 1954 - 1956, Secondary Vocational School of Fine Arts (Vaclav Hollar Art School ) Prague 1958 - 1959 prof. Vaclav Trefil, Academy of Fine Arts in Prague 1959 - 1965 prof. Vojtech Tittelbach, prof. Vladimir Sychra, prof. Arnost Paderlik. member: Synteza Creative Group, Czech Fine Arts Fund, Litograficanka, Graficanka, Hollar Association of Czech Graphic Artists, Tolerance Free Association, Tolerance Art Group, drummer of the famous Olympic group (1965 - 1971).
on Czech-antigues.com since: 30.3.2021 20:42:41
antiques by Category: paintings
width: 152 mm
height: 240 mm
date of manufacture: 1978
country of origin: Europe – Czechoslovakia
period / style: the second half of the 20th century
author: Jan Antonín Pacák ( Jeňýk )
number of pieces: 3
details: dated, wood engraving, signed, unframed
locality: Prague
seller - antique gallery: Antiques Pod Kinskou, Ltd.
price: 32,- €
Antikpraha.cz does not increase the price of goods by its commission and, as a result, some items here are cheaper by tens of percents than the same items on other websites.
Email seller about this item?
Similar antiques you may be interested in paintings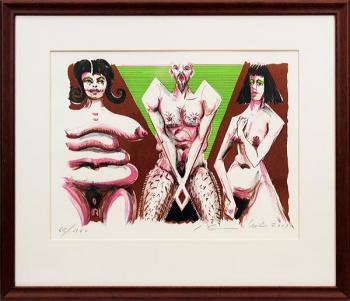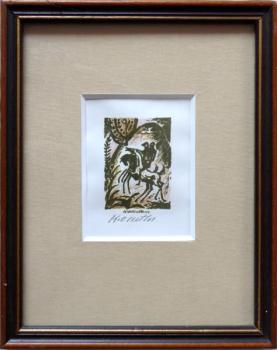 Color lithography on paper 10 x 7.5 cm. Signed lower center. Frame with...
15,- €
Oil on canvas 80 x 100 cm. Signed lower right, dated 1931. On the back on...
3 423,- €