Silver smaller spoon - Brückmann & Söhne,Heilbronn - detail of advertisement
Antique: Silver smaller spoon - Brückmann & Söhne,Heilbronn
Polished silver. Fineness Ag 800 / 1000. Weight 39 g. In Baroque style. The name of the design - Augsburger Faden (from 1884). Spoon of egg shape. Slightly widened at the top, tapered at the middle. Lower part of the handle, oval extension. Decorated at the edge, two embossed lines. Marked from below - German hallmark (crescent and crown), purity 800, manufacturer's mark. Brückmann & Söhne Germany 1888 - 1900. Length 18 cm.
on Czech-antigues.com since: 9.2.2020 11:52:46
antiques by Category: metal - cutlery
width: 180 mm
date of manufacture: 1890
country of origin: Europe – Germany
period / style: late 19th century
author: Brückmann & Söhne,Heilbronn
number of pieces: 1
materials: silver
details: hallmark, in original condition
locality: Prague
seller - antique gallery: Antiques Pod Kinskou, Ltd.
price: 35,- €
Antikpraha.cz does not increase the price of goods by its commission and, as a result, some items here are cheaper by tens of percents than the same items on other websites.
Email seller about this item?
Similar antiques you may be interested in metal - cutlery
Polished silver. Fineness Ag 800 / 1000. Weight 23.02 g. Spoon of ovoid,...
32,- €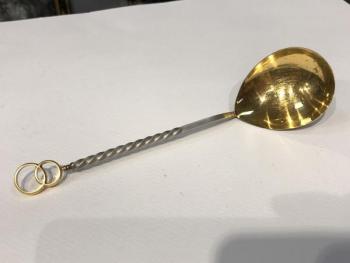 Massive silver. Fineness Ag 750 / 1000. Weight 283,50 grams. Baroque shape....
180,- €