Six smaller silver knives, vine with leaves - detail of advertisement
Antique: Six smaller silver knives, vine with leaves
Silver, steel. Silver handles. Total weight 171.89 grams. Late Biedermeier style. Handles of oval, expanding shape. Decorated with embossed vine decor with grapes and leaves, rings and volute. Steel blades with round tip. Marked with the Austro-Hungarian hallmark for foreign goods. Original red box, with brown velvet inside. Europe 1866 - 1880. Length 20 cm.
on Czech-antigues.com since: 28.1.2020 19:28:34
antiques by Category: metal - cutlery
width: 200 mm
date of manufacture: 1870
country of origin: Europe
period / style: the second half of the 19th century
number of pieces: 1
materials: steel, silver
details: hallmark, in the functional condition
locality: Prague
seller - antique gallery: Antiques Pod Kinskou, Ltd.
price: 140,- €
Antikpraha.cz does not increase the price of goods by its commission and, as a result, some items here are cheaper by tens of percents than the same items on other websites.
Email seller about this item?
Similar antiques you may be interested in metal - cutlery
Silver polished. Fineness Ag 800 / 1000. Net weight 46.49 grams. Inner side...
100,- €
Silver, 800/1000 202, 41 g, Bohemia, original vanity, Klein brothers - Brno,...
540,- €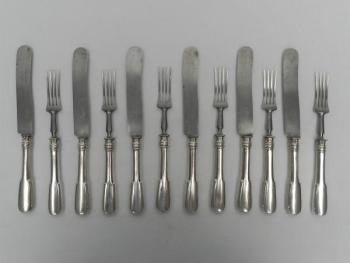 Polished silver. Fineness Ag 800 / 1000. Weight 39 g. In Baroque style. The...
35,- €