Mantel Clock - marble - 1880 - detail of advertisement
Antique: Mantel Clock - marble - 1880
on Czech-antigues.com since: 15.9.2019 08:57:43
antiques by Category: clocks & watches
width: 330 mm
height: 390 mm
depth: 150 mm
date of manufacture: 1880
country of origin: Europe
period / style: the second half of the 19th century
number of pieces: 1
materials: marble
locality: Zlin
seller - antiqueshop: Vinoteka&Antik
price: 500,- €
Antikpraha.cz does not increase the price of goods by its commission and, as a result, some items here are cheaper by tens of percents than the same items on other websites.
Email seller about this item?
Similar antiques you may be interested in clocks & watches
half-time stroke dimensions clock: width 390 mm, height 900 mm, depth 270...
1 615,- €
Gold Au 750/1000, back of Silver Ag 800/1000, total weight 64.95 grams, enamel...
5 000,- €
Art Deco, spring clock, half-time stroke. Perfect condition.
327,- €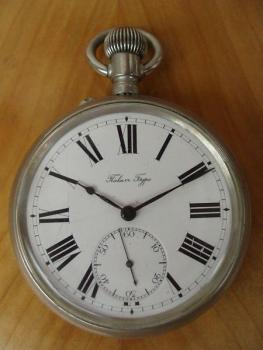 Weight: 370 g Dimensions: 6.9 x 2.3 cm hairline crack in the clock dial
692,- €