Hang Plate - porcelain - Slavkov - 1860 - detail of advertisement
Antique: Hang Plate - porcelain - Slavkov - 1860
date of insertion: 18.12.2017 15:54:25
type of antique good: porcelain plates and side plates
width: 245 mm
height: 0 mm
depth: 0 mm
approximate year of manufacture: 1860
country of origin: Europe – Central Europe
period / style: the second half of the 19th century
author: Slavkov
number of pieces: 1
made of materials: porcelain
locality: Prague
antique gallery: International Antiques Dr. Petr Pšenský
price: 12,- €
Antikpraha.cz does not increase the price of goods by its commission and, as a result, some items here are cheaper by tens of percents than the same items on other websites.
Want to ask the seller directly?

Další starožitnosti v kategorii porcelain plates and side plates
White porcelain, painted, gilded. Round shape. Extensive raised hem, with...
173,- €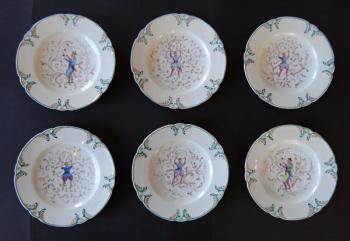 White porcelain, painted and gilded. Amid saucers painted story depicting...
227,- €