Green gold-plated box, figurative motif - Epiag - detail of advertisement
Antique: Green gold-plated box, figurative motif - Epiag
Green, white, gilded porcelain. Round shape, low round smaller gilded foot. Removable, domed lid. Box decorated, gilded lines and ornament around the perimeter, on a green background. Inside the theme of Parid's court, inside the lid is a golden inscription - Karlovy Vary. On the front of the lid, an antique girl with a child. From below - green Epiag Royal, Czechoslovakia, wreath, embossed numbers 225/0/8. Czechoslovakia, Stara Role ( Altrohlau ), Epiag. Czechoslovakia 1918 - 1935. Height 5 cm, diameter 7 cm.
on Czech-antigues.com since: 4.10.2020 19:19:58
antiques by Category: Porcelain boxes and sugar bowls
width: 70 mm
height: 50 mm
date of manufacture: 1920
country of origin: Europe – Czechoslovakia
period / style: Interwar Period
author: Epiag, Stará Role
number of pieces: 1
materials: porcelain
details: marked on the lower side
locality: Prague
seller - antique gallery: Antiques Pod Kinskou, Ltd.
price: 38,- €
Antikpraha.cz does not increase the price of goods by its commission and, as a result, some items here are cheaper by tens of percents than the same items on other websites.
Email seller about this item?
Similar antiques you may be interested in Porcelain boxes and sugar bowls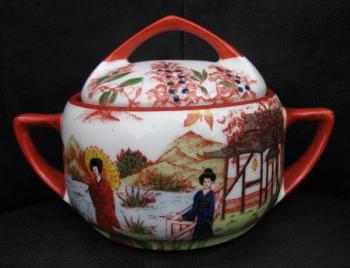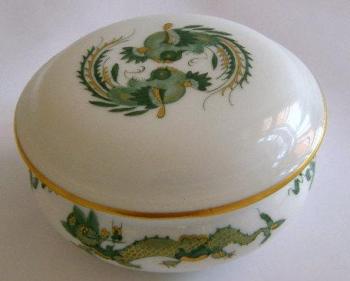 Porcelain jar, marked Meissen, dragon scenes - painting.
173,- €