Vase, amphora, with flowers and gilding - Victoria - detail of advertisement
Antique: Vase, amphora, with flowers and gilding - Victoria
White and colored porcelain, with gilded lines. Classic amphora-shaped vase, with arched foot, embossed ring and gold line. Decorated with a printed decor of colorful larger and smaller flowers. The upper edge is narrowed, with a gold line. From below: the gold brand of the seller - K. Schönbach, Prague Wenceslas Square, green Victoria with a crown and Czechoslovakia. Stara Role, Czechoslovakia 1920 - 1940.
on Czech-antigues.com since: 13.9.2020 18:49:17
antiques by Category: porcelain vases
height: 140 mm
date of manufacture: 1930
country of origin: Europe – Czechoslovakia
period / style: Interwar Period
author: Victoria, Stará Role
number of pieces: 1
materials: porcelain
details: marked on the lower side
locality: Prague
seller - antique gallery: Antiques Pod Kinskou, Ltd.
price: 35,- €
Antikpraha.cz does not increase the price of goods by its commission and, as a result, some items here are cheaper by tens of percents than the same items on other websites.
Email seller about this item?
Similar antiques you may be interested in porcelain vases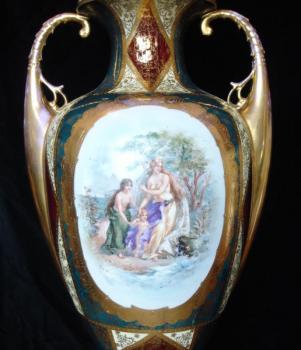 Porcelain, painted, height: 750 mm
2 269,- €
Porcelain white, painted, gilded, glazed. Conical shape. Tapered upper edge....
54,- €