Large vase, brindle decor - Ikora or Steinwald - detail of advertisement
Antique: Large vase, brindle decor - Ikora or Steinwald
Colorless, green, blue, gray and brown glass. Conical bulbous vase. Colorless glass underlaid with clear glass. In the middle, an interlayer of green, gray and brown glass, with air bubbles. Flat, brushed, top edge. Ikora, WMF, Germany or Steinwald, Bohemia. From the period 1920 - 1940. Height 36.5 cm.
on Czech-antigues.com since: 28.6.2020 17:33:32
antiques by Category: glass - vases
height: 365 mm
date of manufacture: 1925
country of origin: Europe – Germany
period / style: Interwar Period
author: Ikora WMF nebo Steinwald
number of pieces: 1
materials: flashed glass
details: in original condition
locality: Prague
seller - antique gallery: Antiques Pod Kinskou, Ltd.
price: 296,- €
Antikpraha.cz does not increase the price of goods by its commission and, as a result, some items here are cheaper by tens of percents than the same items on other websites.
Email seller about this item?
Similar antiques you may be interested in glass - vases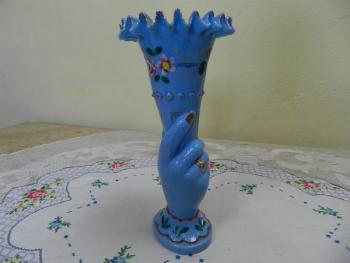 design Michael Powolny
3 296,- €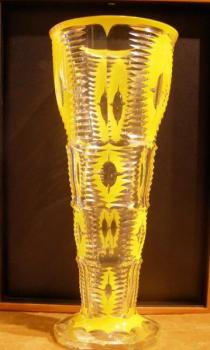 Blue, matt and polished glass, cut. Cylindrical shape with cut upper edge....
30,- €
Thick-walled beryl glass, cut. Vase, square shape, vertical facets, solid...
67,- €